The second case that caught my eye and made me stop and squeal a little was this precious little bird:
Now tell me, is that not sweet?! I just loved his little birdy shape, that big eye, even the teensy little black beak sticking out in front - can you see it in this picture? I hope so, because it's just too cute.
Truth be told, I had a hard time deciding which case I liked best in the Wild to Wear by ritaboth Etsy shop. Besides the little blue bird, she has a darling brown mole, a sweet polka-dotted whale, and a gorgeous little plaid fox that was a CLOSE contender for my favorite.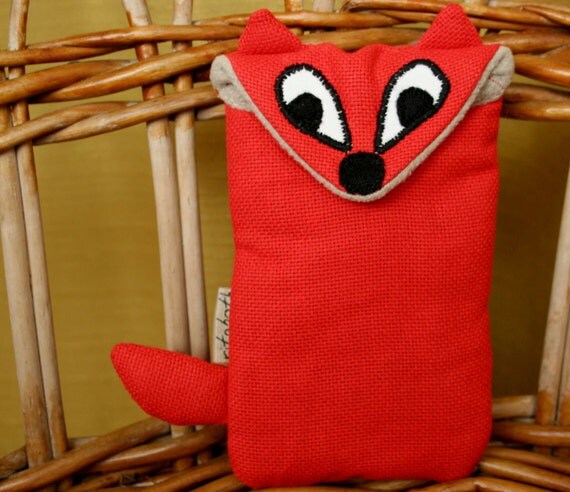 And wouldn't you know that the fox is the one she'd offer to give away to one lucky reader. I think maybe she was trying to tempt me, at least a little, when she sent him along with my birdy. But I have not opened the tissue paper he's wrapped in, lest I fall in love and have to keep him too. ;)
** UPDATE: I'm very sorry for a mistake in my original post. Rita contacted me this morning to let me know that it is not, in fact, the plaid fox that was sent for the giveaway, but the RED fox. See, this is what happens when I have willpower. I mess things up. Anyway, the red fox is adorable - who could resist that little face?

Anyway...back to my lovely little bird! He (I'm assuming he's a he, since he's mostly blue) is made of organic hemp and linen, and is just so much more cuddly and squishy than a mere cell phone case has any right to be. The inner lining is soft, to protect the phone, and there's a handy pocket on the back - just right for headphones, driver's license, debit card, whatever you need to keep close at hand. And did I mention how cute he is? He's more like a friend than a functional object. But I'm kind of weird that way.
Once I learned a little more about Rita, I understood why her creations are so unique. You see, she's an independent filmmaker and animation film maker. She says, "I've always had some creatures in my mind, and I tried to show them to other people. First it started with making plush toys of my own design for the children in my family. Then I wanted to make some creatures that are wearable and useful, like the bags, laptop cases, and phone cases. The first one was the Whale bag, inspired by a drawing by my sister...then came the owls, foxes, and moles, and I'm constantly working on new designs."

Personally, I can't wait to see what comes next. I hope it's an owl. Or a duck. Hint hint.
Want to win the mischievous little fox case for yourself? No? Oh, well, I can't force you to enter. If you don't, I suppose I'll just have to keep him for myself. That would be such a shame.
But here's the widget, just in case.